Ah ah, this ep is quite a torture to watch for me. Because it's all about Orihime being broken down to a messy wreth together with her n "Kurosaki-kun" and " What should I do" while Ulquiorra was brutally beaten up and humilated by Ichithing. No offense to Orihime's seiyuu, but she was successful in making my ear bleed with her kun chant.

In addition, the animation quality fluctuates up and down in this ep just like a stock market chart, especially when it comes to Orihime because the anime never gets her face right. Moreover, we has CENSORSHIP and that fucking censor had degraded the heroic in Ishida and whatever happened to Ulquiorra and Ichithing's hollow nature. Don't get me wrong, the fights are great. I like how they extends the fight between Ulquiorra and Ishida and the fight between Ulquiorra and Ichithing. The soundtrack and effect are amazing. I just dislike the very details in the manga that the anime decides to change in the anime just to fit the C. And also whatever happen with Ichigo after being blasted a hole in his chest.

I think the only thing that keeps me watching this torturous ep is Ulquiorra, and Ulquiorra only. Because most of best animation quality goes to him. And because I got chance to hear him PANTING and RECITING his LUST POEM sexy and smexy in the anime :> That made the ep worth.

Like I said in the previous screencap report, after the Dattebayo's mistranslation from "kokoro" to "soul" instead of "heart", I decide to watch another version from other fansubbers. And I discover Animatrix. While the quality is in HD that is better than DB, the translation from Animatrix is pretty much the same as DB except they properly translate "kokoro" into "heart", not "soul". So I recommend if you want to watch the sub of this ep where Ulquiorra read his poem about the "heart" in the preview and the sub of ep 272 which might feature the hand reaching scene and Ulquiorra talking about the "kokoro", better watch this version.

Screencap this time will be very selective and biased because I found none of any good quality snapshots of other characters beside Ulquiorra. There are some of Ishida though. I'm sorry about Orihime's quality. I try my best to get a good snapshot at her. The anime didn't allow me to do so. Ichithing is so scary to screencap to me, so I only post a few of him in account with Ulquiorra along.

This ep covers the total 3 chapter: 349, 350 and 351 from where Orihime zoomed the hole in Ichigo at the beginning of chapter 349 to where Ichithing blasted a big cero at Ulquiorra at the end of chapter 350. The CANON is pretty much screw up because of the censorship and some scene where the already-dead-Ichigo would be able to see everything happened to Ishida and Orihime and got up because he wanted to help them on his own account, but seriously, it's his instict, not his consciousness that made him rising. Pierriot, you're always failed.
After 5 minutes recap, here comes the difference when you read the manga. That's the effect on how the anime slides up the close-up-Ichigo's hole and give the close-up on Ichigo's face.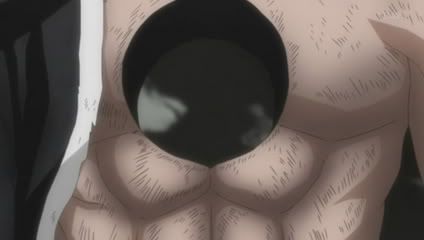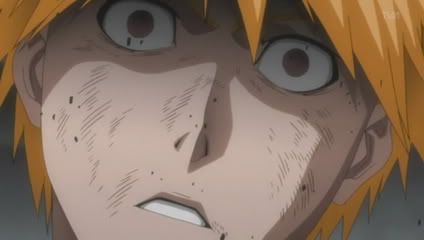 Despite the lack of blood because of the censor, the way they views Ichigo's hole in the anime is different from the manga, and I couldn't get why they did that thing while Kubo drew another thing. Fuck up the angle. In manga, Kubo zoomed out from Ichigo's hole to the whole Ichigo with his hole as in how Orihime viewed him panel by panel together with Orihime's faced being zoomed in down to her shock eyeballs. While the effect of Orihime's reaction is true to the manga, Ichigo is not.




The animation quality of her went horrid after that scene, but I guess it's justified because the person is horrified herself. Still I don't get the way the anime manages to make her run like a crab. Yes, I blame all in the animation. Though the way Ulquiorra suddenly booms in front of Orihime is quite a startle.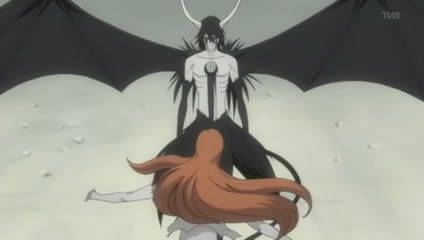 Then their eyes meet. And I curse Orihime's animation quality going downhill. For some reasons, it does look like Orihime is scared at Ulquiorra for real. *facepalm* And I also hate the way the anime keeps inserting Kurosaki-kun when they are in conversation. Don't butcher my UlquiHime convo with the kun D:<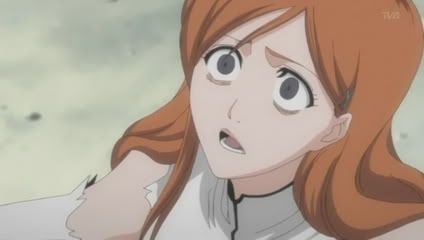 Ulquiorra gets more line to talk with Orihime (it's a repeat line though) And Ishida interrupts him in the end. The soundtrack playing when Ishida attacks is very catchy to hear. I also like the new way that the anime shades Ulquiorra's yellow eyes.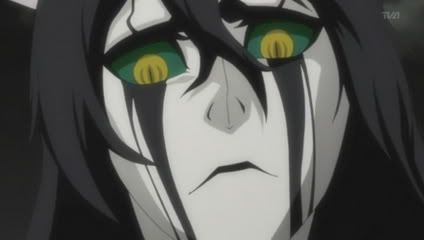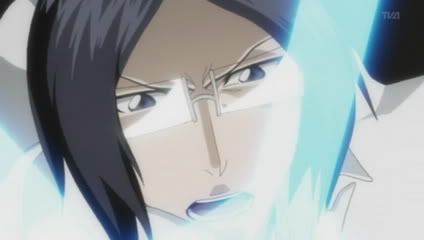 Ulquiorra turns his head at Ishida, annoying for the interruption.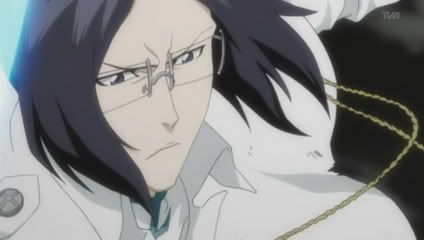 I think I ignored about this matter in the previous ep about Ulquiorra's hair length in his release. But after seeing this screencap, I think the anime is inconsistent with his hair length. Sometimes long, sometimes short, sometimes medium XB Because I believed his hair in his 2nd release is long enough to cover his hollow hole. Yet...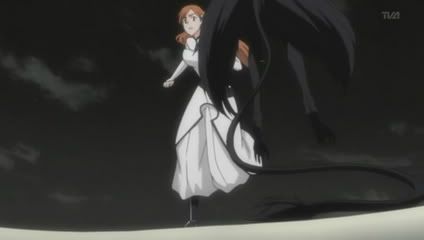 And LOL @ Orihime doesn't give a damn about Ulquiorra. She just runs past him and Ulquiorra lets her pass. Btw, this is another thing I notice when I watch the anime, but did not when I read the manga. Ulquiorra is floating. I thought he is standing on the ground with his talon feet when he suddenly booms in front of Orihime. But he is indeed floating. Is he in the hurry to stop Orihime's track? Because he does not land on the ground properly, but stops in the midair. I guess that's why Orihime had to look up to see him XD

You know, I think Ulquiorra and Ishida is similar because they gives out the color rain XD While Ulquiorra is a burst of his green reiastu rain when he released, Ishida's Licht Regen is a rain of blue arrows :D It's refreshing to see their fight extended. Ulquiorra remarks that Ishida is the most calm person in Ichigo's nakama group which is also similar with Ulquiorra's nature.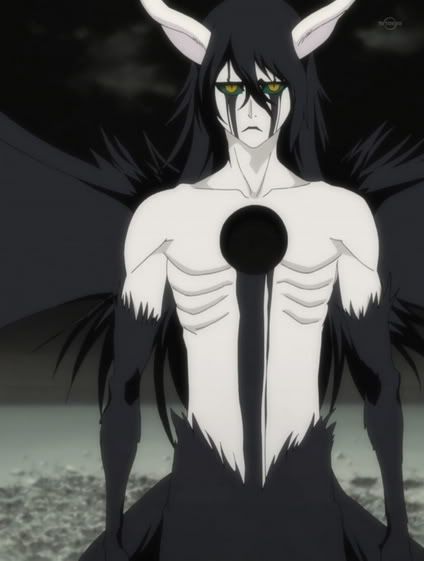 And Ishida reassures Ulquiorra that he is calm so that he could fight with him. Come again? There's a long silence from Ulquiorra here.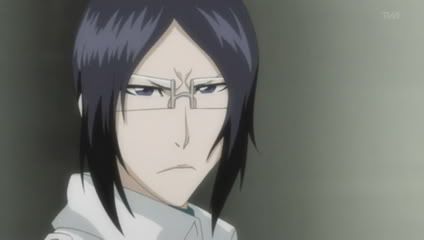 Meanwhile, Orihime runs toward Ichigo's corpse, activates her healing shield and is shocked at the scene of his lifeless face.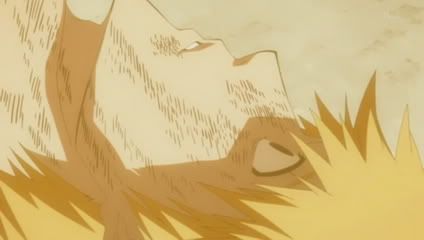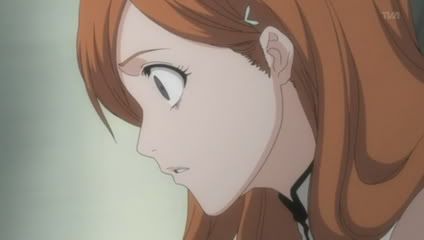 Then we get cut off and back to IshiUlqui fight which I find it very funny to watch XD Ishida keeps shooting arrow at Ulqui and Ulqui keeps swatting and blocking them with his bat wings. Never ever I find his wings so convenient in this long-range battle XD It seems that Ishida doesn't want to approach Ulquiorra closer. I see it's a wise idea. Well, unlike Ichigo, Ishida uses his brain and tactics to fight with Ulquiorra so that he could buy time for Orihime to heal Ichigo. Too bad, Ishida. The girl is busy moping with her "Kurosaki-kun" and "What should I do" instead of concentrating on healing.




I quite like the scene where he uses the smokedust screen to block Ulquiorra's vision, but too bad, Ulqui is a bat XD There's nothing that his eyes couldn't see. And I LOL @ the surprise attack Ulquiorra puts on Ishida. NICE ASS DAT BAT XD I wonder whether Ishida intends to fire the arrow in that close distance where I think he would fire.

Ulquiorra swats Ishida in the tower. Ishida continues to tell himself keeping calm and there's a close up on his hand - the hand that was supposed to be cut off in manga - Oh god damn the built up from the anime and a total let down from them too when I find out that doesn't happen.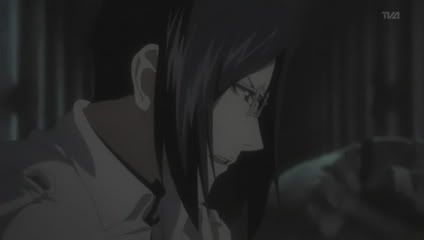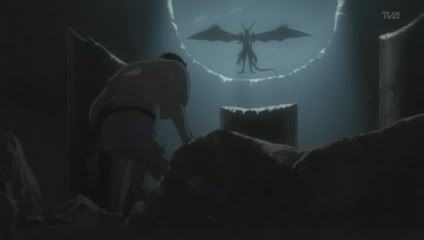 Here I saw the parallel of the IchiUlqui scene where Ulquiorra looks down like a superior being and Ishida is on his knee. In addtion to the parallel, Ulquiorra talks about the human's limit to Ishida much like what he said to Ichigo.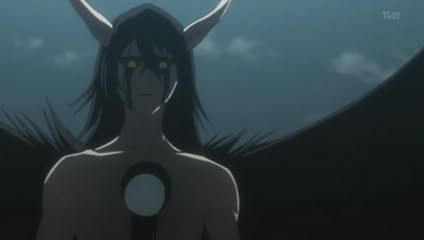 Ishida still has thing up to his sleeves as he pulls out Seeleschneider with his foreshadowed hand.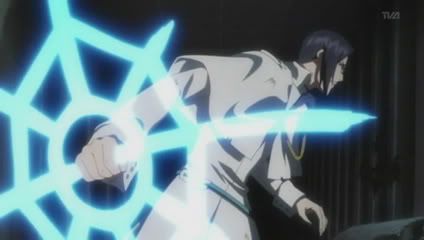 Unfortunately, Ulquiorra can't wait to see the trick. He grabs Ishida by his hand. As much as I love how this scene goes, I have to overlook such obvious mistake from the coloring staff where Ulqui's hand is the same pale color as his skin (light effect? o.O). Strangely enough, in the next scene with Ishida, it turns back to black.




OH THE UNF. THE TENSION.
Ulquiorra: Is it this arm?
Ishida: Ugh
Me: O.O




Then, we return to Orihime's scene where I notice, because of the inserting IshiUlqui fight, Orihime's order of reaction had been changed.




In the manga, after the shock to see her Kurosaki-kun fail, Orihime cried and "what shold she do" (x1) and then fell on her knee while crying. Yet in anime, Orihime falls on her knee first and then starts to cry and "what should she do" (x2).




Of course, flashback about Kurosaki-kun also occurs during the mopping time. But what I feel strange is in manga, the flashback was all about Ichigo in GrimIchi fight, not any Ichigo's panels in IchiUlqui fight. But the anime includes both. Orihime falls into distress with her "what should I do" (x4) and Ishida flies pass her.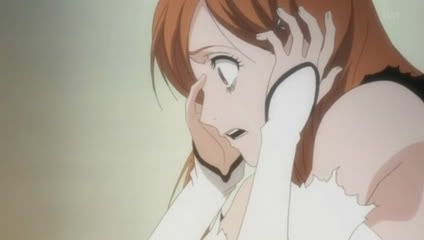 The part where Ulquiorra grabs Ishida's hand is a nice build up tension from the anime. Yet they screw up that built up by showing nothing happened to his hand besides being DIRTY. Is his hand burned? Or are his bones broken? I don't know. All I see that it got dirty and Ishida needs a wet towel to swipe its dust. Oh GOD DAMN CENSOR D=< Perriot, you make Ulquiorra look like he is making people's body part dirty instead of looping it off with blood. Why take such trouble to do so, Ulqui? And the part where Ishida says that he already took anesthetics and hemostatics doesn't make sense because the man doesn't get bleed any elsewhere on his hand. THIS IS UNFUCKINGBELIEVABLE.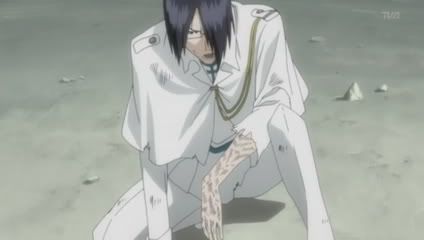 Ah ah, the animation quality goes horrid at Orihime and Ishida again. It's probably because of that dirty hand. But as you see, Ishida is pretty much brave when he takes on Ulqui's attack. No offense to Ishida's fans, but I enjoy seeing Ulqui whips him up with his tail. I hasn't thought that it's much enjoyable for Ulqui to use his tail to beat Ishida up when I read the manga.




While I put the screencap together just like what happened in the manga, but in fact, it's not. The order of panel had been changed. And I'm slightly annoyed of that change because in the manga, I always thought the two last panels connected together as in Orihime looked at Ulquiorra and wondered "what should she do". It could also be assumed that Ulquiorra also looked at her based on how the blood flied across their faces as if they were facing each other. Yet, it's screw up in the anime.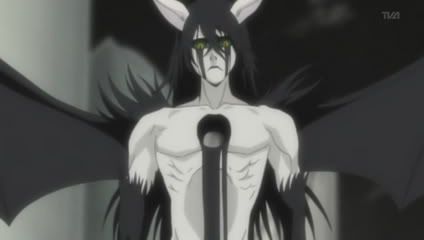 While Orihime's voice is so annoying for me to hear (because she keeps repeating the same one-liner), but I admit that her seiyuu voices out her distress well.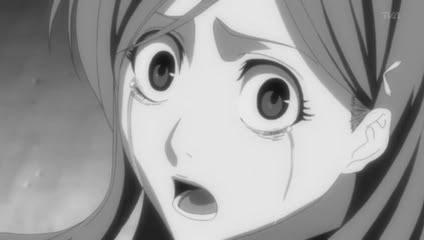 I like this color effect when everything turned into monochrome as if Orihime's POV is fade from color to black & white and then completed black at the sight of the failed Kurosaki-kun before the failed calling "help".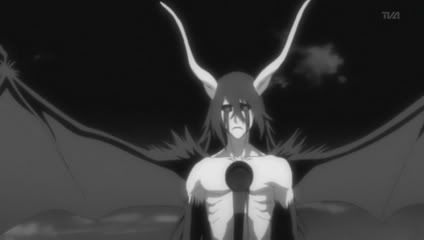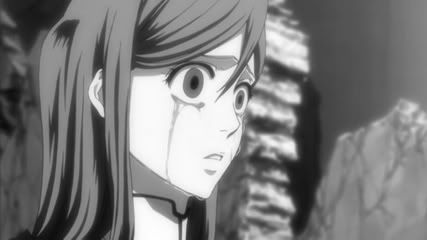 Unlike her previous chanting of distress, her calling out "help me" is quite a let down to me. Because it doesn't make impact like it did in the manga. Both in her voice and animation. And I figure because the animation makes her mouth that way, the seiyuu has no choice but to dub it like a weak and pathetic calling (because she can't yell out with that mouth). To the, the scene where she yelled out "DON'T" in the previous ep made more impression than this.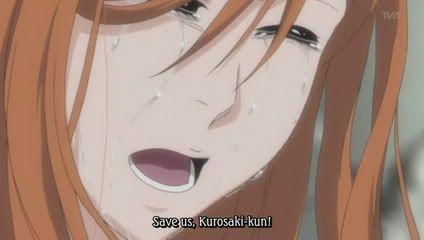 Please ignore the English sub where there's only one word in Japanese for "help". There is no pronoun. But as the way the anime set up for both Orihime and Ishida, it seems to lean more "help us" rather than Orihime "help me" herself. And as if it's not failed enough, it's failed more when they deal with Ichigo's scene after the call. And I don't get the sound effect of the *dun dun* because it sounds like a heart beat and the man had already fucking got his heart blow away. And worse, the next scenes after that didn't really happen in the manga.




Oh flashback is overused in this ep. The anime made it like Ichigo can see what happen to Ishida and Orihime right at the beginning. And I wonder how the hell he can (we all know that he COULDN'T in the manga) And the worst part is probably the way the anime makes Ichigo react to raise up to save his friends on his own consciousness, but in fact it's actually his instinct.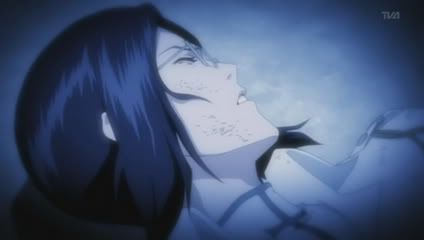 On a plus side, if I ignore the difference and don't have manga to read, then the anime just portrays that Ichigo does not see only Orihime in his thought, nor him rising up only for her to protect. Because Ishida is also there. It's because of the nakama, that he wants to rise up. I notice while Orihime's POV fade from color to monochrome and then completedly black. Ichigo's POV in anime is a muddle of dark blue, but he himself is cloaked with the color of dark red.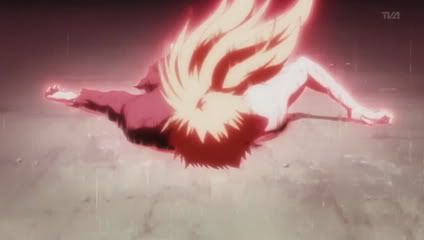 It seems the anime keep the original line of Ichigo without adding any pronoun. Though because of the way the anime set up, the sub translation is messed up in every way.

We return to the leak scenes in the game and the anime uses the exact scenes in the game. Oh how creative of you, Perriot! Because I have feeling that the flow after that is abruptedly changed and so is the animation quality.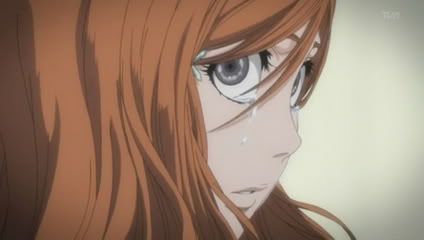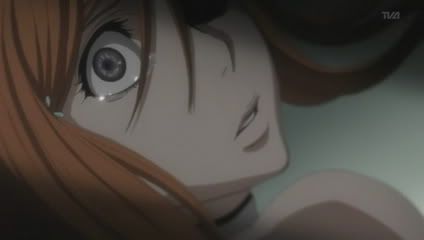 I'm still perplexed with Ishida's dirty hand hanging on his side. Everybody is shocked at Ichithing's appearance.




Ulquiorra does not and asks the creature who he is. I think there's something wrong with Ichithing's hollow hole because it shaped as OO instead of O.




We get a surprise respond from Ichithing: summon Zangetsu flying into his hand.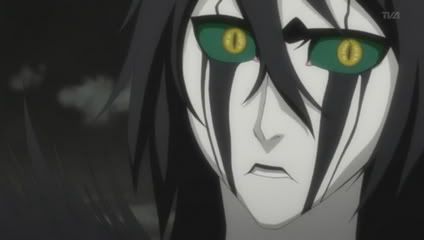 The results are the HEART-SHAPED ROCK and the FACE-PLANT toward Orihime after that. If anyone watch it and see her as doing a military style back-flip and roll over, you're FUCKING WRONG.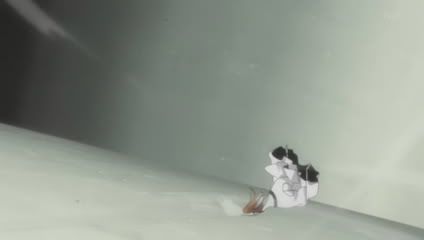 *ignore the dirty hand* I'm not pleased with the way Ishida catches Orihime in the anime because it lacks to show his expression :( And in manga, Ishida had to swung his body to the side to desperately catch her despite his one hand lacking.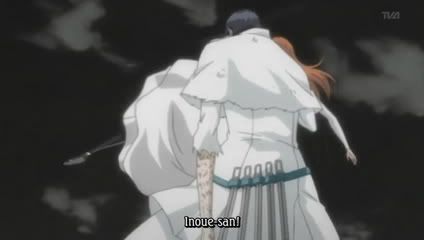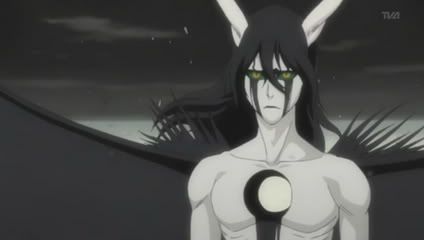 Ulqui's hair length is inconsistent again. This time, it's in a medium length. After seeing Orihime being treated like that and seeing Ichithing speaking in another foreign language that's hollow roaring, he gives out Cero Oscuras without any hesitation.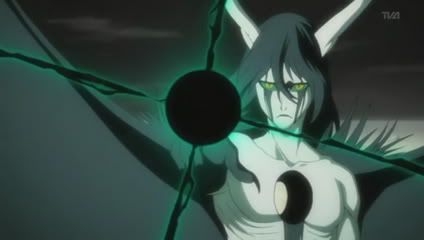 But Ichithing also ceroes and hell breaks loose.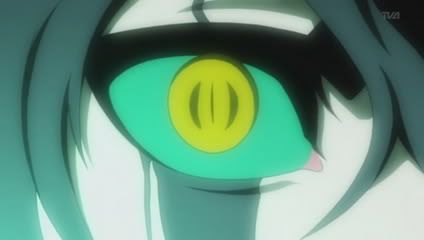 The effect after two ceroes collide gives out a column of fire. It's a very good image of the war.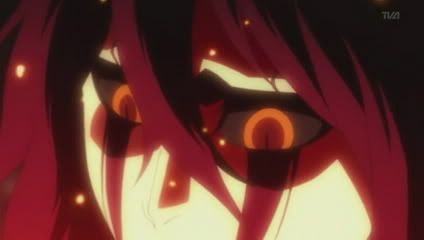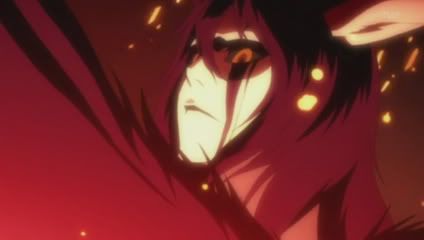 There is something I notice in the way every character in Bleach fights. They always sneak from behind the opponent for a chance to attack.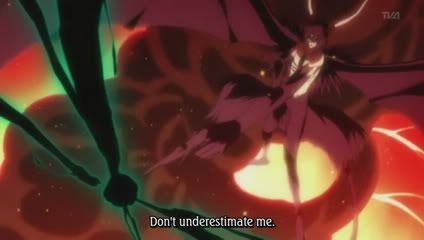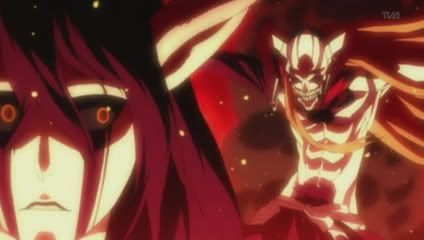 While the screencap is like this, what happened with Ulqui's arm in the anime is different from the manga. In the manga, it's was Ichithing RIPPED OFF Ulqui's arm with its hand, not cutting his arm with Zangetsu, so the manga could portray how brutal and animality Ichithing was. Oh the censorship :< And I'm bewilden of why the anime get no qualm to show Ulquiorra lost him arm, but cannot show Ishida got his hand cut off. Is it blasphemy? Is it biased because Ulquiorra is the villian? Or is it because he can heal his arm back in no time? So it's okay for the villian to lose his limb, but it's not okay for the good guy? WTH? D=(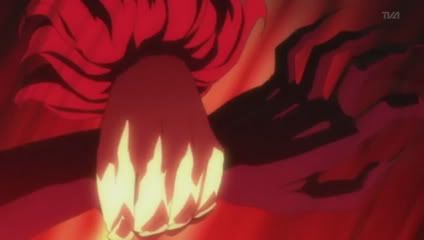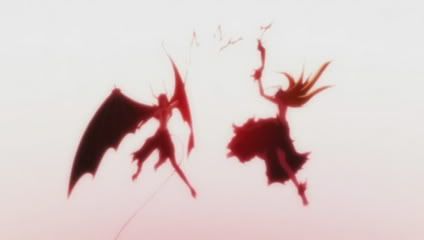 Arg, my poor bat boy. He looks bewilden and vunerable T_T Oh yes, the blood magically comes back.




THIS IS THE BEST PART OF THE ANIME:

ULQUIORRA PANTING ♥♥♥




I love the way he pants >v< and goes "tsk" to see his arm got cut. He looks so irated here @v@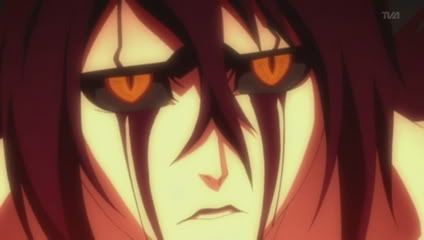 Then he regenerates his arm. Though I'm kind of disappointed because while it's good, it's not awesome like how it did in the OP. So the regeneration scene has a nonchalant feeling from Ulquiorra.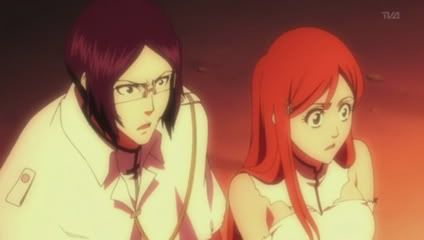 "Got back arm, got back game" XD Anyway, in case that you don't realize, in this ep, Ulquiorra is the one who talks a lot and has the most line of all eps adding together (despite he is the most quiet one) And there's awalys a reason for his ranting. He is either buying time or rushing thing XD




There's a flashback about Ulquiorra's camera eye when he talks about his regeneration. And this time, thank god, there's no censor in his eye because it ought to be the black hole, he didn't close it with his eyelid.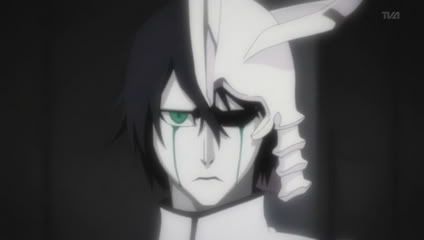 Ulquiorra says that he won't join the one-arm club after the anime decides not letting Ishida join.




In case that you don't realize, because of the light efffect from the fire column, Ulquiorra's skin is colored very much like human's :D Ulqui, the way you make a heart with your hands is wrong XD




Lanza del Relampago :3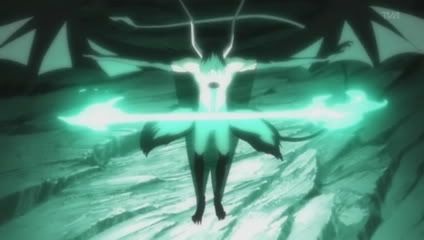 This scene also features in the game. I guess that's why they choose his lanza to be green instead of the original yellow in the manga.




Ulqui throws the lance and misses, miserably.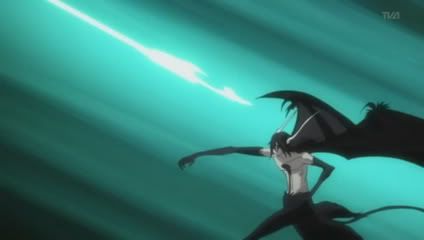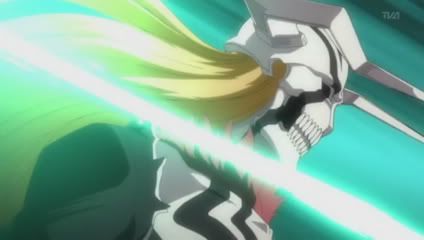 I like the way how the anime portray the power of his lanza. It's fucking powerful and you have to wonder what would have happened to Las Noches and Ichithing if it didn't miss. And the wind created from Ulqui's lanza explosion extinguishes the fire column created by Ichithing cero like blowing a candle :D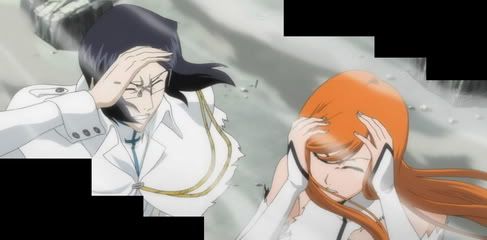 Both Ishida and Orihime also affected from the wind. Meanwhile, Ulquiorra is nonchalant when he sees it miss. He tends to try again, but Ichithing makes a move first.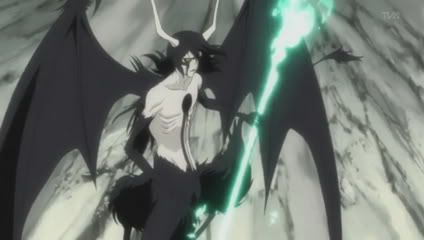 I think, besides the IshiUlqui hand tension, this is the second best tension that the anime creates in this ep. Ulquiorra's tone is full of surprise. His talking is like whispering now :3




This is probably a payback from what Ulquiorra did to Ichigo in the previous ep. But Ulquiorra, you look so composed even when you get surprised and get your head crashed on the ground.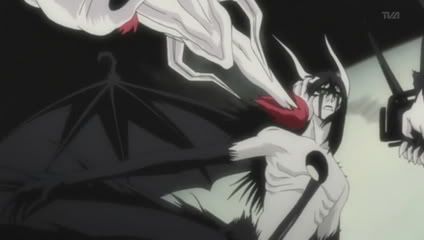 I really like the way Ulquiorra did with his lance because it keeps reminding me that he is doing some kind of cheerleader move by spinning it like that XD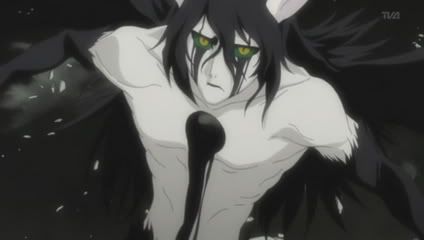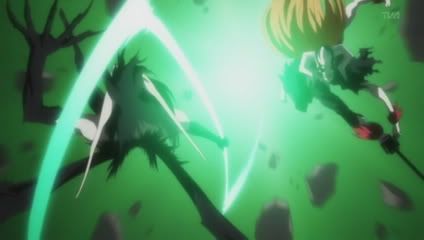 Ishida comments that the speed is too fast for him to follow with his eyes while Orihime only has her one-liner =/




The way Ichithing throw a boulder toward Ulquiorra is hilarious.




And it's even more hilarious when I realize it's a replacement for this scene in manga. So because of the censorship, the scene where Ichithing threw Ulquiorra's arm toward Ulquiorra is cut off because it's... cruel and violence. But that's the way Ichithing supposed to be D=( Instead, Ulqui's arm is replaced by a rock and instead of making the scene more sadist and cruel to Ulqui, it truns out hilarious and stupid to me.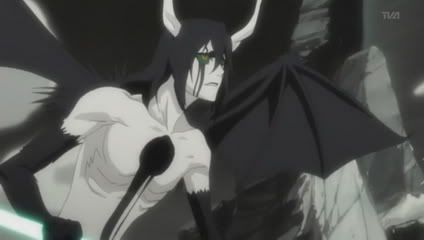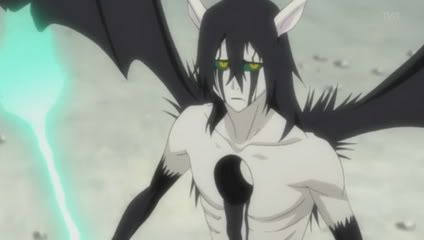 Though when they use the rock to let Ichigthing slip off from Ulqui's vision so that he can give him a sneak attack, it gives me a feeling that this creature actually can think cleverly and corehently, but in fact, it's not. Like I said, tactical fight is not the way Ichithing fought after all.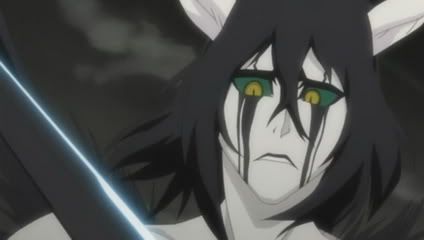 But I finally realize the real reason why they do that. Because they just want to reuse the scene in the game and they have to adjust the fight so that Ulqui could jump backward and give a lance stabbing.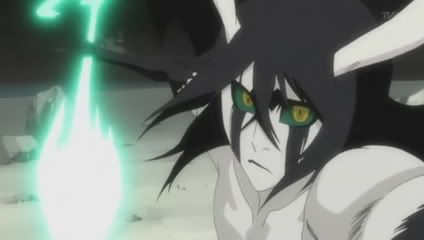 Ichithing breaks Ulqui's lanza with its barehand.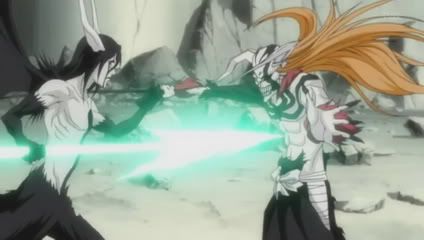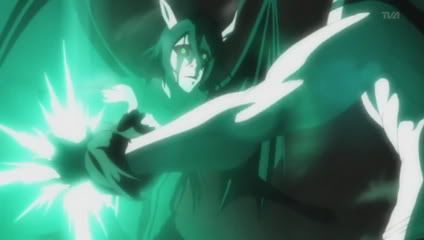 Poor my boy, this scene always gives me a throb in the heart everytime I watch it.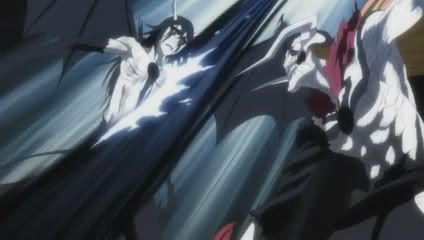 Ishida and Orihim are bewilden at the scene where Ulquiorra is defeated.




How come does he look so vunerable to me now? Laying down on the ground and asking for anybody to top him :3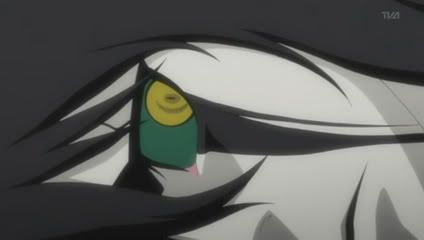 ARGHHH, THE HORROR!!!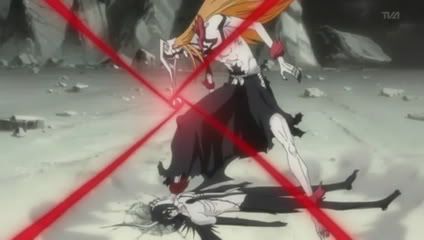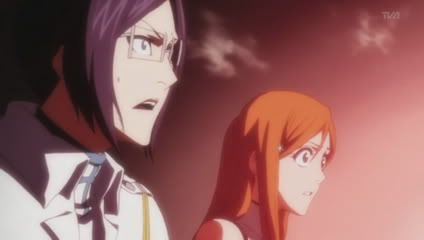 Ulquiorra, you are SO dignified even when you lost and ask for the finish move when you're under the winner's foot. His demand of "DO IT" kills my soul >v< I pray that you will come out alive and come back here.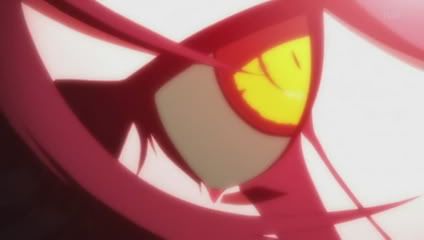 PREVIEW OMAKE



OMG

, the next ep omake preview is GOLD. Did I hear wrong?

Ulquiorra is

RECITING his LUST POEM

@v@



Oh, Ulqui ~ sexy sexy. The way he read the poem. While every line about the sins is in flat, monotone and overlap with each other, only the last line, he PAUSED and says the "omae no subete no hossure" (I lust for everything about you) with a totally different tone that is so deeper, desperate and full or yearning. Is it because the next ep will feature the hand reach scene where we will know who Ulquiorra yearn for, that's why he read the poem for the next ep preview? Oh, Ulqui :3 I can't help but thinking it's a continue from the previous preview where Ulquiorra said that he would fill in for Ichigo. And instead of wearing Yoruichi's outfit and an afro like Orihime suggested, he read his POEM about his feeling toward you-know-who >V<

There's an issues about the sub translation, but I don't mind, whoever knew about the poem undestand what it means for the best.

ARRANCAR ENCYCLOPEDIA

This is a continue from the previous one where Ulquiorra still covers Gin's eyes XD And it continues to be hilarious when it comes to the UlquiGin combo XD Oh, but Ulqui, you're failed in the way of covering his eyes with your hands XD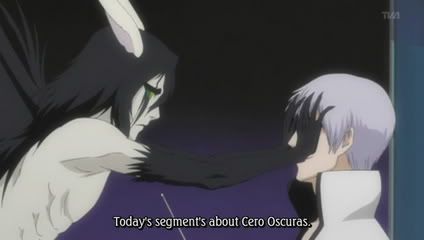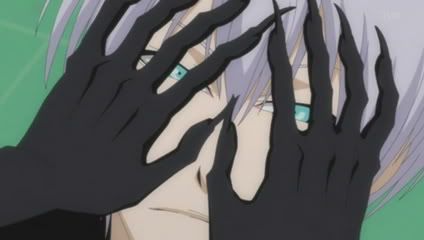 Today, Gin explains about Cero Oscuras and gets not one, but two in his eyes XD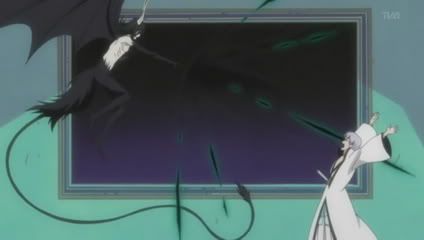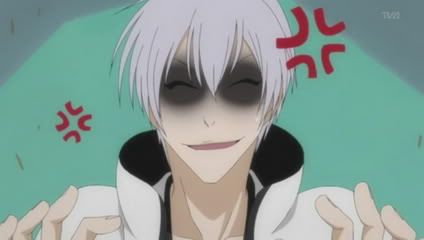 How Ulqui uses Cero Oscuras to blacken Gin's eyes, but not burn his is beyond me!? Though it's so DAMN hilarious to see Ulqui acting OCC XD